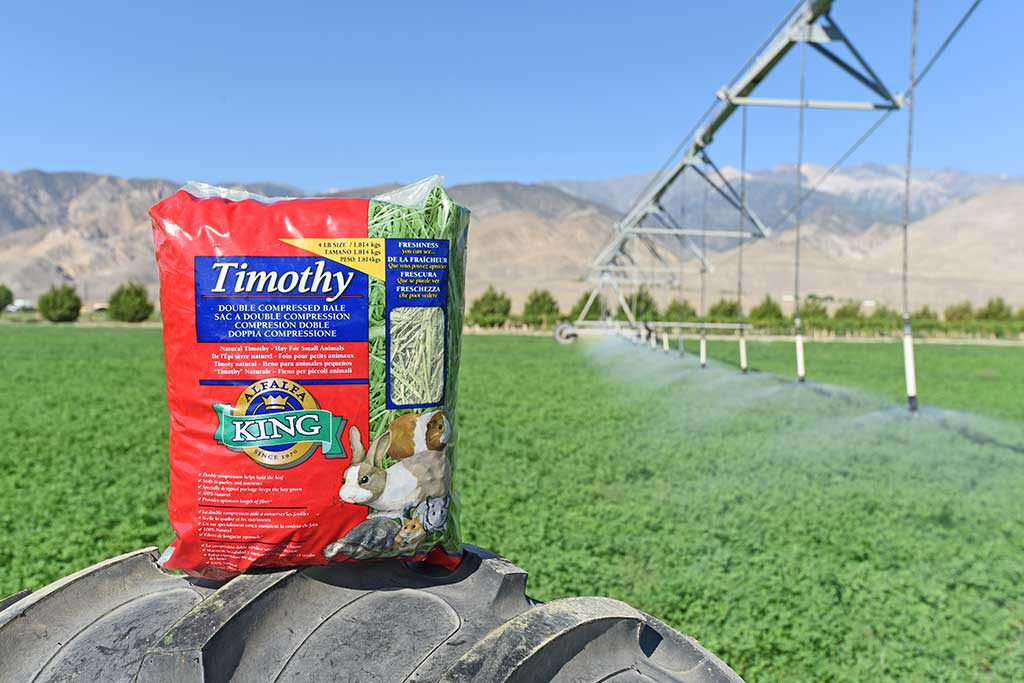 Timothy Hay History  tim·o·thy (tm-th)
n. pl. tim•o•thies
Any of several grasses of the genus Phleum, especially P. pratense, native to Eurasia, and P. alpinum, of North America, having a dense cylindrical inflorescence of compressed, one-flowered spikelets and widely cultivated for hay.
[Probably after Timothy Hanson, an 18th Century American farmer.]
Timothy Hay or herd's-grass, perennial plant (Phleum pratense) of the family Gramineae (grass family), native to Europe and W Asia and one of the most widely cultivated hay grass of North America. Adaptable to cool, moist climates where it is sometimes grown in mixtures (especially with red clover), it is a late grass, usually sown in the Fall and can be stored after cutting.
It is not used for permanent pastures because it cannot survive continuous grazing. Timothy is classified in the division Magnoliophyta , class Liliopsida, order Cyperales, family Gramineae.
Timothy hay generally gives the impression that it is more parched when compared to the other varieties. Since timothy is less damp than most hay, it is known to be less susceptible to mold if any.
Timothy
Phleum pratense
Family Gramineae 
Characteristics:
 Inflorescence narrow, cylindrical, rough-textured
 Flower single, pale green turning to tan
 Height: 1-3 1/2′
Natural History:
 Flowers in early summer
 Habitat: Meadows, roadsides
 Range: Throughout the United States
 Presumably introduced from Europe
Connections!
Timothy was first found in America in 1711 by one Jonathan Herd in New Hampshire, but the species was also known to exist in England
Timothy is a valuable grass for hay, since it dries well and provides winter food for livestock. It gets its name from the first farmer to promote it for hay, Timothy Hanson
From 1870 to 1910, timothy was a valuable cash crop, since hay was need to feed horses that propelled carriages and farm machines
Timothy Nutritional Information
Double Compressed Alfalfa Bale *Guaranteed Analysis
Crude Protein (min)………………………….. 8.0%
Crude Fat (min)……………………………….. 1.5%
Crude Fiber (max)……………………………. 32.0%
Moisture (max)……………………………….. 14.0%