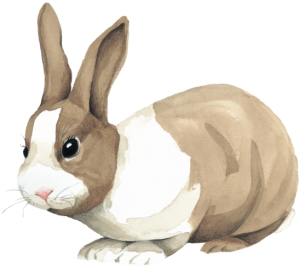 A rabbit's diet should be made up of good quality pellets, fresh hay, (Alfalfa, Timothy or Oat, Wheat & Barley), water and fresh vegetables. Anything beyond that is a "treat" and should be given in limited quantities.
Pellets should be fresh, and should be relatively high in fiber (18% minimum fiber). Do not purchase more than 6 weeks worth of feed at a time, as it will become spoiled. Pellets should make up less of a rabbit's diet as he or she grows older, and hay should be available 24 hours a day.
When shopping for vegetables, look for a selection of different veggies. Look for both dark leafy veggies and root vegetables, and try to get different colors. Stay away from beans, corn and rhubarb.